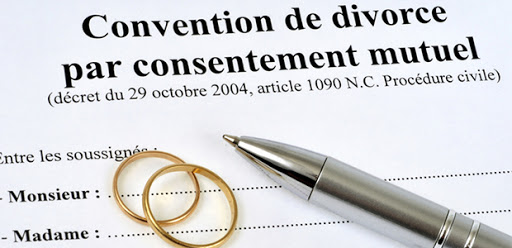 Les époux peuvent consentir mutuellement à leur divorce par une convention contresignée par avocat.  La convention est déposée chez un notaire.
The spouses may mutually consent to their divorce by agreement countersigned by a lawyer.  The agreement is kept by a notary.
Le divorce par consentement mutuel, qui existe en France depuis 1975, est le cas de divorce le plus utilisé en pratique.  Il représente environ une moitié des divorces.
Divorce by mutual consent, which exists in France since 1975, is the type of divorce most used in practice.  It represents about half of divorces.
Chaque époux est assisté par son propre avocat.
Each spouse is assisted by his or her own lawyer.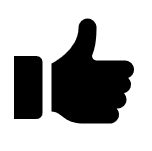 Grand intérêt du divorce par consentement mutuel, les époux n'ont pas besoin d'avoir l'approbation de leur convention par le juge (sauf cas exceptionnel où un enfant mineur demande une audition).
Major benefit from divorce by mutual consent, the spouses don't need to have approval of their agreement by the judge (except in the case where a minor child requests a hearing).
Si un des époux est soumis à une mesure de protection, telle une tutelle ou curatelle, le divorce par consentement mutuel sans l'approbation du juge n'est pas permis.
If one of the spouses is under a protection measure, such as guardianship, divorce by mutual consent without the judge's approval is not permitted.
La convention de divorce / The divorce agreement
La convention de divorce comporte expressément :
The divorce agreement expressly sets forth:
1° Les nom et coordonnées de chacun des époux ainsi que de leurs enfants, et la date et le lieu de mariage
1° The name and information of each spouse as well as their children, and the date and place of marriage
2° Le nom et coordonnées des avocats chargés d'assister les époux
2° The name and information of the lawyers in charge of assisting the spouses
3° accord des époux sur la rupture du mariage et sur ses effets dans les termes énoncés par la convention
3° agreement of the spouses about the break-up of the marriage and about its effects under the terms stipulated by the agreement
4° versements convenus d'un époux à l'autre, notamment d'une prestation compensatoire
4° agreed payments by one spouse to the other, including alimony
5° partage des biens du couple ("état liquidatif"), le cas échéant passé devant notaire pour des immeubles
5° division of property of the couple ("liquidation table"), possibly made before notary for real estate 
6° La mention que l'enfant mineur a été informé par ses parents de son droit à être entendu par le juge et qu'il ne souhaite pas faire usage de cette faculté.
6° The indication that the minor child was informed by his parents of his right to be heard by the judge and that he does not wish to make use of this right.
Pour quels couples le divorce par consentement mutuel est-il approprié ?
For which couples is divorce by mutual consent appropriate?
Le divorce par consentement mutuel est plus simple, plus rapide et moins coûteux (en frais d'avocat) que les autres types de divorce, dits "contentieux".
Divorce by mutual consent is simpler, quicker and less costly (in attorney's fees) than other types of divorce, known as "contentious".
Le divorce par consentement mutuel est particulièrement adapté à certaines situations, notamment :
Divorce by mutual consent is particularly adapted to certain situations, including:
situations déjà acquises :  les époux sont déjà séparés et ils ont déjà mis en place et vécu (et confirmé la pertinence de) une organisation de leur relation, notamment pour la garde d'enfants.  Il s'agit simplement, de formaliser une situation déjà acquise.
situations already implemented:  the spouses are already separated and they have already implemented and lived (and confirmed the relevance of) an organization of their relation, including for child custody.  It is simply a matter of formalizing a situation already implemented.
séparation sans enjeux familiaux ou matériels compliqués :  les époux sont mariés depuis peu de temps, ou ils n'ont pas d'enfants (ou les enfants sont majeurs), ou ils n'ont pas un patrimoine important en commun.
separation without complicated family or financial stakes:  the spouses have been married for a short period, or they don't have children (or the children are adults), or they don't have significant assets in common.
séparation avec accords standards :  les époux font le choix d'une organisation classique quant aux enfants, et d'un accord standard éprouvé par un grand nombre de couples.
separation with standard agreements:  the spouses choose a classical organization relating to the children, and a standard agreement time-tested by many couples.
Pour aller plus loin :
Further reading:
Circulaire du 26 janvier 2017 de présentation des dispositions en matière de divorce par consentement mutuel et de succession issues de la loi n°2016-1547 du 18 novembre 2016 de modernisation de la justice du XXIe siècle et du décret n°2016-1907 du 28 décembre 2016 relatif au divorce prévu à l'article 229-1 du code civil et à diverses dispositions en matière successorale – Légifrance (legifrance.gouv.fr)