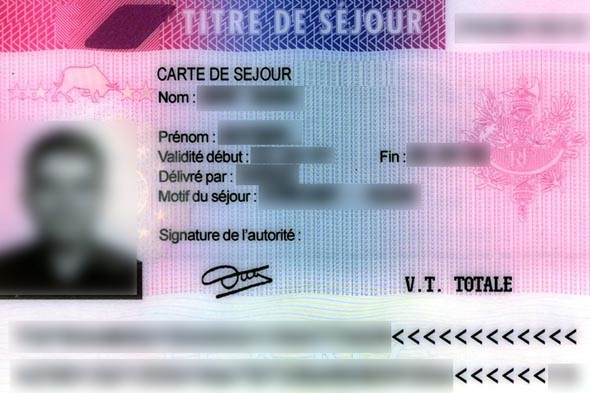 La circulaire du 28 novembre 2012 a détaillé un dispositif de régularisation pour travailleurs présents en France sans titre de séjour.
The circular regulation of 28 November 2012 defined a mechanism of regularizing for workers.
La circulaire impose la production d'un contrat de travail ou d'une promesse d'embauche d'une durée minimale de 12 mois.
The circular regulation imposes the production of an employment agreement or of a promise of hiring with minimal duration of 12 months.
Catégories de travailleurs / Categories of workers
Trois catégories de travailleurs peuvent prétendre à une régularisation :
Three categories of workers may claim regularization:
1)  L'étranger avec :
5 ans de présence en France et 8 mois de travail sur les 2 dernières années, ou
3 ans de présence en France et 2 ans de travail, dont 8 mois (consécutifs ou non) dans les 12 derniers mois
1) The foreigner with:
5 years of presence in France and 8 months of work over the prior 2 years, or
3 years of presence in France and 2 years of work, including 8 months (consecutive or not) in the last 12 months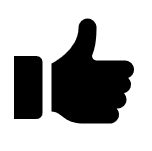 L'étranger qui travaille de façon continue, peut demander la régularisation dès 3 ans de présence.
The foreigner who works in a continuous manner, may request regularization starting at 3 years of presence.
2)  L'étranger présent en France depuis au moins 5 ans et exerçant une activité d'économie solidaire pour le compte d'un organisme agréé depuis au moins 12 mois
2) The foreigner present in France for at least 5 years and engaged in an activity of solidary economy for an accredited organization for at least 12 months
3)  Le travailleur intérimaire présent en France depuis au moins 5 ans assurant une activité depuis au moins 24 mois, avec un niveau de salaire d'au moins 12 SMIC mensuels pour un minimum de 910 heures d'intérim (dont au moins 310 pour l'entreprise associée à la demande)
3) The temporary worker present in France for at least 5 years, having an activity for at least 24 months, with a salary level of at least 12 monthly SMIC for a minimum 910 hours of temporary work (including at least 310 for the company associated with the application)
Chercheurs d'emploi / Job seekers
En dehors de ces catégories, l'étranger qui établit une forte durée de présence en France (7 ans par exemple) et une activité supérieure à 12 mois au cours des 3 dernières années, peut obtenir un récépissé de carte de séjour « salarié » pour rechercher un emploi et travailler.  Ce titre précaire est renouvelé une seule fois.
Outside of these categories, the foreigner who establishes a strong duration of presence in France (7 years for example) and an activity exceeding 12 months over the last 3 years, may obtain a temporary worker's permit to look for a job and work.  This temporary permit is renewable only once.
Adéquation entre expérience et emploi / Consistency between experience and job
L'expérience démontrée doit être en adéquation et de même nature que l'emploi visé dans la demande.  Par exemple, si l'étranger présente un contrat de travail de garde d'enfants dans sa demande, elle doit démontrer une expérience passée dans ce même métier.
The demonstrated experience should be consistent and of the same nature as the job mentioned in the application.  For example, if the foreigner submits an employment agreement as nanny in her application, she should show past experience in this same work.
Cela dit, pour les métiers exigeant un faible niveau de qualification, ce critère est apprécié avec souplesse.  Par exemple, pour être livreur (qui a été considéré comme un métier qui peut être appris en peu de temps), une longue expérience comme livreur ne sera pas exigée.
That being said, for jobs requiring a low level of qualification, this factor is considered with flexibility.  For example, to be a delivery man (which was considered as a job that can be learned quickly), a long experience as delivery man will not be required.
Situation de l'emploi / Employment conditions
La situation de l'emploi (par métier et région) est en règle générale un critère d'appréciation d'une demande d'autorisation de travail.  En pratique, l'employeur doit déposer une offre d'emploi sur Pole emploi, afin de s'assurer que de candidats répondant aux exigences du poste ne soient pas disponibles.
Néanmoins, ce critère ne s'applique pas aux demandes de régularisation au titre du travail.
Employment conditions (by work type and region) are as a general rule a factor considered in the application for work authorization.  Practically, the employer must post an offer of employment on Pole emploi, in order to make sure candidates fulfilling the requirements of the position are not available.
However, this factor does not apply in applications for regularization on the basis of work.
Preuve d'activité / Proof of activity
Les candidats établissent leur activité par tout moyen de preuve : bulletins de salaire, virements, chèques emploi service.
Candidates establish their activity by all means of proof: salary statements, transfers, "emploi service" checks.
Preuve de présence / Proof of presence
En principe, l'étranger doit produire un document par mois (ou au moins par trimestre) pour chaque année de présence.  La preuve d'un séjour continu peut toutefois être apportée par un faisceau d'indices.
In principle, the foreigner must produce one document per month (or at least per quarter) for each year of presence.  Proof of continuous stay may however be shown by a totality of circumstances.
La jurisprudence a considéré les pièces suivantes comme fiables :
ordonnances médicales
analyses médicales
décisions d'admission à l'aide médicale d'Etat
courriers de l'administration fiscale
extraits de compte bancaire faisant état d'opérations sur son compte
bulletins de salaire
certificat médical
factures d'électricité
rôle de taxe d'habitation
certificats de travail
contrat d'intérim
lettre de la CPAM
Courts have considered the following items as reliable:
medical prescriptions
medical analysis
decisions of admission to public medical aid
letters from tax authority
bank account statements showing transactions on the account
salary statements
medical certificates
electricity bills
residence tax bills
work certificates
temporary work contract
letter from CPAM (public health insurance authority)
Il est important, tout au long de votre présence en France, de garder ces documents précieux, qui vous serviront de preuve de séjour au moment de votre demande.
It is important, all along your presence in France, to keep these precious documents, which will serve as proof of stay at the time of your application.
Activité pendant instruction / Activity during review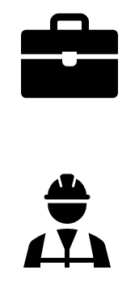 Ne vous inquiétez pas, vous pourrez continuer à travailler pendant l'instruction de votre demande.
Don't worry, you will be able to continue working during the review of your application.
Mais si vous avez reçu une obligation de quitter le territoire français, cette obligation reste valable et peut être mise à exécution, tant que le titre de séjour n'est pas délivré.
But if you received an obligation to leave the French territory, this obligation remains valid and may be executed, as long as the visa is not issued.
Prise de rendez-vous à la préfecture / Booking an appointment at prefecture
Lorsque votre dossier de demande est prêt, vous prenez un rendez-vous pour le déposer à la préfecture de votre domicile.
When your application file is ready, you may book an appointment to deliver it to the prefecture of your domicile.
La prise de rendez-vous se fait sur internet, au site de la préfecture.
Booking an appointment is done on the internet, at the site of the prefecture.
Si vous rencontrez de difficultés pour prendre un rendez-vous, vous avez intérêt à garder une capture d'écran de chaque tentative échouée, avec date et heure de votre tentative.  Ces captures d'écrans vous serviront dans une procédure devant le juge administratif, qui pourra ordonner à la préfecture de vous donner rendez-vous.
If you experience difficulties booking an appointment, you should keep screen shots of each failed attempt, with date and time of your attempt.  These screen shots will be useful in a proceeding before the administrative judge, who may order the prefecture to give you an appointment.
En effet les préfectures ayant du mal à traiter toutes les demandes, le système de prise de rendez-vous est considéré inadéquat.  Vous n'êtes pas seul, d'autres demandeurs ont le même problème !  Faites appel à un avocat pour vous aider et déclencher une requête d'ordonnance de référé au tribunal.
Indeed prefectures having a hard time handling all the applications, the system for booking appointments is considered inadequate.  You are not alone, other applicants have the same problem!  Contact a lawyer to help you and start a request for injunctive order at the tribunal.
Une décision de mai 2021 du tribunal administratif de Paris a ordonné à la préfecture de donner rendez-vous à un demandeur de carte de séjour : Ordonnance de référé relative à l'impossibilit… Catalogue en ligne (defenseurdesdroits.fr)
A decision of May 2021 of the Paris administrative tribunal ordered the prefecture to give an appointment to a visa applicant: Ordonnance de référé relative à l'impossibilit… Catalogue en ligne (defenseurdesdroits.fr)
Rendez-vous en vente / Appointments for sale
Le manque de rendez-vous a créé un véritable "marché" de prise de rendez-vous, avec des rendez-vous "vendus" par des intermédiaires.
The lack of appointments has created a true "market" for booking appointments, with appointments "sold" by intermediaries.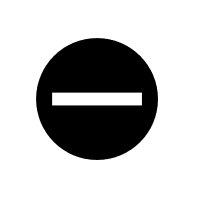 N'ACHETEZ JAMAIS UN RENDEZ-VOUS, IL PEUT S'AGIR D'UN ACTE ILLEGAL, VOIRE DE LA CORRUPTION D'AGENT PUBLIC !
NEVER BUY AN APPOINTMENT, IT MAY BE AN ILLEGAL ACT, EVEN CORRUPTION OF PUBLIC OFFICIAL!
Conseils et informations / Advice and information
L'étranger peut faire appel à une association ou à un avocat pour conseils et informations sur sa situation et son éligibilité à un titre de séjour.
The foreigner may contact an association or a lawyer for advice and information about his situation and eligibility for a visa.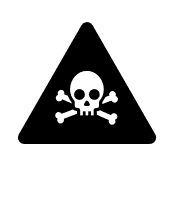 Attention : si vous êtes en situation irrégulière de séjour, n'allez pas à la préfecture demander conseils (sans une convocation), pour ne pas risquer de recevoir une obligation de quitter le territoire français (ou pire, être interpellé) !
Caution:  if you are undocumented, do not go to the prefecture to ask for advice (without an appointment), so as not to risk receiving an obligation to leave the French territory (or worse, being arrested)!
Récépissé de demande / Application receipt
Dans l'attente du traitement du dossier de demande, l'étranger bénéficie d'un récépissé de 4 mois.
While waiting for processing of the application file, the foreigner enjoys a receipt of 4 months.
Ce récépissé est renouvelé une seule fois sauf situation particulière.
This receipt is renewed only once except special situation.
Validité territoriale / Territorial scope
En cas de régularisation, les autorisations délivrées en métropole sont valables sur l'ensemble du territoire métropolitain.
In case of regularizing, the authorizations issued in metropolitan France are valid for the entire metropolitan territory.
Taxes 
Pour la demande en régularisation d'une carte de séjour et autorisation de travail, deux taxes sont dues :
For the application for regularizing for a visa and work authorization, two taxes are due:
1.  Taxe payée par l'étranger
Le montant de cette taxe est 340 €, dont 50 € est payé lors du dépôt de la demande de la carte de séjour (et le solde lors de la délivrance du titre).
1.  Tax paid by foreigner
The amount of this tax is 340 €, of which 50 € is paid upon the filing of the visa application (and the balance upon the delivery of the visa).
2. Taxe payée par l'employeur
Pour un contrat de travail de 12 mois ou plus, l'employeur paye une taxe dont le montant varie en fonction du salaire brut mensuel.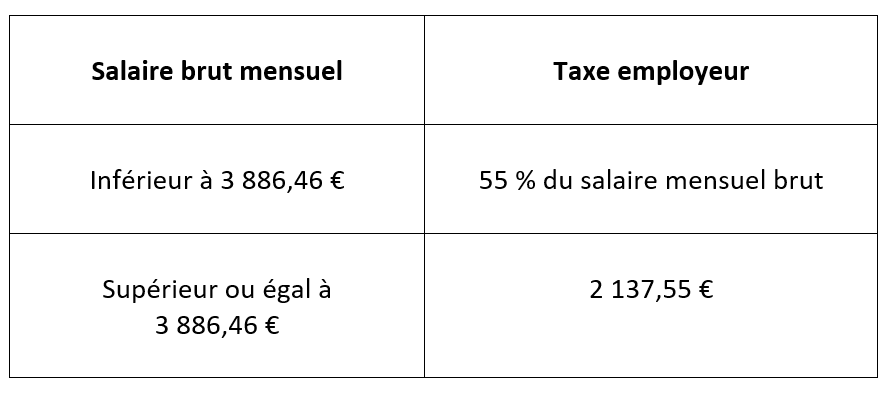 Cette taxe est payée dans les 3 mois après la délivrance de l'autorisation de travail pour la première carte de séjour.
2.  Tax paid by employer
For a contract of 12 months or more, the employer pays a tax whose amount varies based on the monthly gross salary.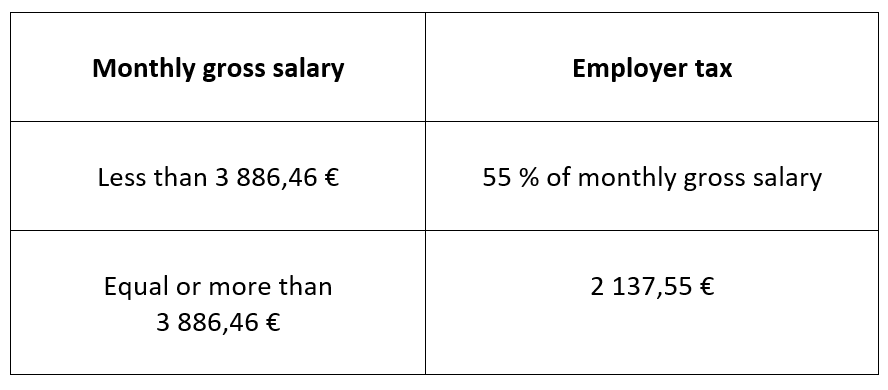 This tax is paid within 3 months after delivery of the work authorization for the first visa.
Augmentation des travailleurs étrangers / Increase of foreign workers
Ces dernières années, un nombre croissant de travailleurs étrangers ont reçu un titre, tous statuts confondus, pour la première fois (32 800 en 2018, 27 400 en 2017, 22 900 en 2016, 21 000 en 2008).  Pour l'essentiel, ils sont des salariés.
In the past few years, an increasing number of foreign workers received a visa, including all types, for the first time (32 800 in 2018, 27 400 in 2017, 22 900 in 2016, 21 000 in 2008).  Essentially, they are employees.
En 2016, le nombre d'étrangers sans titre ayant obtenu une régularisation ("admission exceptionnelle") pour des motifs économiques, était 5 900, pour l'essentiel des salariés.
In 2016, the number of foreigners without visa having obtained a regularization ("exceptional admission") for economic reasons, was 5 900, essentially employees.
Pouvoir gracieux et exceptionnel / Gracious and exceptional power
Si la circulaire du 28 novembre 2012 préconise les critères à prendre en compte dans l'évaluation des demandes de carte de séjour des travailleurs sans titre, les préfets disposent d'un pouvoir gracieux et exceptionnel pour régulariser.
While the circular regulation of 28 November 2012 recommends criteria to take into account in the evaluation of applications for residency cards for workers without visa, the prefects enjoy a gracious and exceptional power to regularize.
Autrement dit, un étranger n'a jamais un "droit à régularisation", la décision du préfet étant prise en fonction d'une évaluation au cas par cas de chaque situation individuelle.
In other words, a foreigner never has a "right of regularization", the decision of the prefect being taken based on a case-by-case evaluation of each individual situation.
Examen de la situation de l'étranger / Assessment of foreigner's situation
Ce dont l'étranger a toujours droit, c'est un examen de l'ensemble de sa situation.  En effet le préfet ne peut pas se borner à vérifier uniquement quelques éléments, pour prendre sa décision.  Il s'agit là d'un principe fondamental.
What the foreigner has always the right to, is an assessment of his or her entire situation.  Indeed, the prefect cannot limit his verification to only a few elements, to take his decision.  This is a fundamental principle.
Et cet examen de l'ensemble de la situation de l'étranger, doit bien apparaitre dans la décision du préfet.  En effet, le préfet est obligé de motiver sa décision, et ne peut jamais se borner à une réponse standardisée à une demande de régularisation.
And this assessment of the foreigner's entire situation, must appear in the prefect's decision.  Indeed, the prefect is required to justify his decision, and can never resort to a standardized response to an application for regularization.
Contrôle du juge administratif / Review by administrative judge
Un refus de régularisation est, néanmoins, soumis au contrôle du juge administratif, qui peut annuler le refus pour une erreur manifeste commise par le préfet dans l'appréciation d'une situation.
A refusal to regularize is, however, subject to review by the administrative judge, who may cancel the refusal for manifest error committed by the prefect in the assessment of a situation.